At the beginning of 2019, I made a radical decision
Which not only changed the rest of the year, but immediately changed my whole life.
I decided to commit to my mission:
To use my experience to make plant-based food the norm.
Overland to India… What have I got myself into!?
At the end of 2018 I was 33 old and I had been commercial manager for more than a year, responsible for a team of five people and 80 million euros in purchase value. A role I had been working towards for almost 10 years. Each time I made a nice step at companies like Nestlé, Dr. Oetker and Fromagerie Bel.
At Hessing, I and my colleagues won three Indistribution Trophies in a row, a prize in which supermarket chains vote on which suppliers perform best in the cooperation. We made huge growth steps.
Yet something wasn't right. The job didn't make me happy anymore. I felt as if I was constantly the driving force and my ambitions in the field of sustainability were not shared, such as switching to a more sustainable chicken (which came from Brazil) and more focus on plant-based products..
I made a radical decision: I resigned and went on a world trip with my boyfriend. A trip overland to India, through countries such as Iran and Pakistan.
While I was sitting on a mountain in Pakistan I felt: I want to use the knowledge I have gained in all these years for my mission:
MAKING PLANT-BASED THE NORM
I have been eating plant-based for five years.
I used to have a lot of intestinal problems and sinus infections, which were often dismissed by my doctor as down to stress and irregular sleep patterns.
During a challenge five years ago I changed my diet to vegan for five weeks and I felt much fitter. In the hospital it turned out later that I have a heavy form of lactose intolerance.
I then also started to delve into other reasons why people eat vegetarian or vegan. I had never really heard of these diets.
When I saw the documentary Cowspiracy, my mind was made up: I was going to eat plant-based.
When travelling in Iran and Pakistan, I became even more concerned about the world's food and water supplies. So this gave me the last push to start working on my mission every day.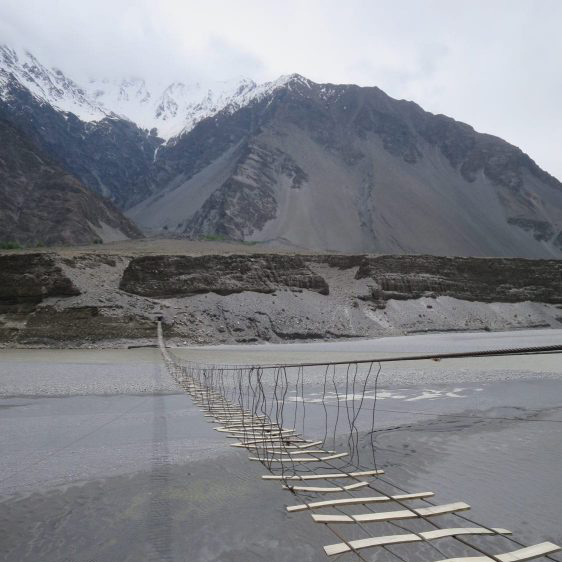 Suspension bridge – Passu, Pakistan
When plant-based suppliers are the best, we change the norm
I am a very driven person. If I have a goal in mind, I am totally committed to it. Once a client said to me that they were not innovative enough. I worked to ensure that, after many iterations, they put 50 new products on the market in just a year – some of which still sell tremendously well. When people told me Pakistan wasn't safe enough, I wanted to find out for myself first.
That drive always takes me far. That is why I now use that drive for companies that make a difference.
I help them become the best supplier, whatever stage they are at. In every phase of your company there are enormous growth opportunities, which ensure more sales in the most profitable way possible. To help suppliers to see and use these opportunities, that's where my strength lies.
Some nice facts about me:
And now I am interested to learn about you…
You now have a better idea of who I am. I am curious about you, your company, your motives and what challenges you have to become a better supplier and make more impact.
Would you like to talk about the opportunities I see for you?